Places to Stay in Palo Alto, CA – The Palo Alto Inn
At the Palo Alto Inn, each well-appointed guest room is an ideal respite from the busy Bay Area. Each spacious guest room welcomes guests with plush bedding, modern decor, and soothing color pallets. Guest rooms are fitted with a microwave and refrigerator, flat screen TV's with premium cable channels, iron and ironing boards, and laptop safes. Rooms include private bathrooms that feature complimentary signature toiletries and a hair dryer. Guest rooms at the Palo Alto Inn are also equipped with complimentary WiFi, in-room coffee makers, complimentary bottled water and snacks, and a complimentary newspaper Monday – Friday.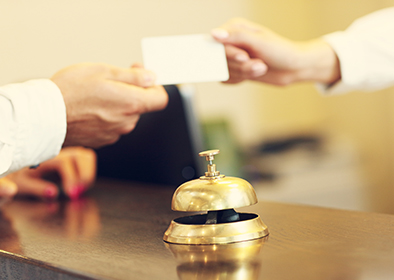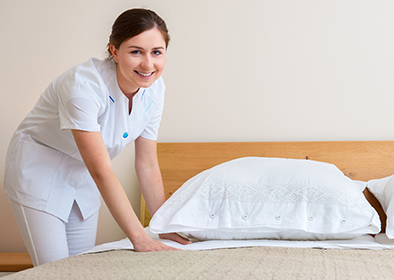 The Palo Alto Inn Amenities
Complimentary Continental Breakfast
In-Room Coffee
24-Hour Fitness Super Sport* Max one day guest pass, and 2 passes per room/day are available only for those guests who book directly on our website
Hairdryer
Family + LGBQT Friendly
Flatscreen TV
Complimentary In-Room Snacks
Concierge Service
Grab-And-Go Breakfast
Air Conditioned
Refrigerator
Iron/Ironing Board
Business Center
High-Speed Internet
Electronic Magnetic Keys
Free Parking
Complimentary Newspapers In Lobby
Express Check-In/Check-Out
Concierge Available Via SMS
Alarm Clocks
Microwave
Wireless High Speed Internet (Free)
In Room Safe
Outdoor Patio
Guest Laundry Facilities
Daily Housekeeping
Family Rooms
Secure Laptop Safes
Cable TV
24-Hour Front Desk
Non Smoking Rooms
ADA/Accessible Features for the Overall Property
WCAG Level 2.1 Website
Accessible Parking Spaces Close To Lobby Entrance With Signs
Each Public Accessible Toilet Has Necessary Grab Bars
Roll-in ADA showers available
All Phones Are Easily Operable And Accessible
Staff Has Immediate Access To Information About Guestrooms
Ground Floor Hotel Entrance
Interior Routes Are ADA Compliant
Transfer Tub Seats Can Be Provided
All doorways to and within Accessible Guest Rooms are Wheelchair Accessible
Doors Are Easily Operable And Reachable Using One Hand
ADA Guest Room Bathroom Door And Other Hardware Are Easily Operable With One Hand
Accessible Registration Check-in Counter
Accessible Routes Between Exterior Of Hotel And Accessible Entrances And Fire Exits
Accessibility Equipment for The Deaf
Wheelchair Accessible
Parking Areas Are ADA Compliant
All Signs On Property Are Easy To Read And Free From Reflective Materials
Service Animals Allowed At No Additional Charge
Each Public Restroom Has At Least One Accessible Stall
Service Animals Are Allowed Without Extra Charges Or Conditions
On-Site Designated Accessible Parking
Counters Used For Serving Food Are Easily Accessible And Reachable
Hotel Provides Proper Number Of Accessible Guestrooms
Breakfast Area on Ground Floor
Sidewalks And Walkways Are Free From Objects Projecting Into Path
ADA Guest Room Toilets And Showers Equipped With Grab Bars
ADA Accessible Guest Room
Staff Is Trained To Offer Assistance And Make Adjustments To Rooms To Ensure Accessibility
Exterior And Interior Stairs Are Built So Blind Or Low Vision Persons Will Be Safe From The Underside
Accessible Guest Rooms with 32 Inch Wide Openings
Wheelchair Ramp
Exterior Routes Are ADA Compliant
ADA Guest Room Doors And Controls Are Easily Operable With One Hand
Van Accessible Parking
Parking Spaces Are Accessible With Adjacent Access Aisle
Each Public Restroom Has At Least One Facet That Is Easily Operable With One Hand
Registration Desk is Accessible
Stairs And Handrails Are ADA Compliant
People Requiring Accessibility Features Can Reserve Accessible Guestrooms & Suites On The Same Terms That Others Can Reserve Rooms
Front Door Bell
Lobby Door Entrance Has A Clear Passage
Bathrooms Are ADA Compliant
All areas of the hotel are accessible by wheelchair – including a wheelchair accessible route from the accessible parking spaces to the facility's front entrance and to the key areas of the facility
Building Entrances & Lobby Are ADA Compliant
Accessible Patio or Balcony
Sidewalks And Ramps Are At Least 36' Wide
ADA Guest Room Bathrooms Have Clear Floor Space And Are Slip-Resistant
The Palo Alto Inn Policies
These are general hotel policies. Policies may vary per room type. Please check the accompanying room details accordingly.
Check out Time -
11:00:00
Extra Adult Cost -
$10.00
Early Check In
We offer early check-in whenever possible. Please contact management for early check-in requests.
Late Check Out
We offer late check-out whenever possible. Please contact management for late check-out requests.
Policy Details
We have a 48-Hour Cancellation Policy. If you wish to cancel or modify a reservation, you must do so by 1 PM 48- hours or 2 days prior to your arrival date. If you cancel or modify post the expiration of the Cancellation Period or you fail to show up, a no-show charge will be levied on your credit card for one full night.
General
The Palo Alto Inn sits at 4238 EL Camino Real in the heart of Palo Alto California. We are located within walking distance to shopping and several dining options, and we are a short drive from the 101 Bayshore Freeway which provides easy access to popular Bay Area attractions, and additional San Francisco Bay Area and Silicon Valley destination cities.
Services
The Palo Alto Inn is a 100% non-smoking property. We are pleased to offer our guests complimentary WiFi, complimentary breakfast, or for guests on the go, our signature 'Grab and Go' breakfast is a guest favorite. We provide guest laundry facilities, as well as complimentary parking. Our beautifully landscaped grounds include an attractive outdoor patio, where guests are welcomed to enjoy their complimentary newspaper that we provide Monday through Friday.
Guest Parking
Complimentary parking is available for guests of the Inn.
Internet
Complimentary WiFi is available for guests.
Children and Extra Beds
Children are welcome at the Palo Alto Inn. There is no capacity for extra beds.
Pets
ADA Defined Service Animals are welcome at our hotel without extra charges or conditions. Absolutely no pets are allowed.
Accepted Payment Methods
Visa, MasterCard, American Express, Discover. This hotel reserves the right to pre-authorize credit cards prior to arrival.
Terms & Conditions
This property is privately owned, and the management reserves the right to refuse service to anyone and will not be responsible for accidents or injury to guests or for loss of money, jewelry or valuables of any kind. Once checked in, no cancellations. All linens are inventoried: missing or damaged linens will be charged. Any damages to hotel property will be charged an additional fee upon assessment. NO PETS ALLOWED. Guest rooms that have evidence of pet dander and/or odor will be charged a $150 non-refundable fee for deep cleaning services. Any damages to hotel property will be charged an additional fee upon assessment. This is a NON-SMOKING facility. Guest acknowledges that smoking is not allowed in the guest room or within hotel facility. If anyone in guest's party smokes in the guest room, guest hereby expressly authorizes hotel management to charge credit card the amount to reimburse the property for the additional cost of cleaning guest room. If your reservation has been paid in advance or you elect to pay by cash, a security deposit via credit card will be required upon check-in and will be charged in the event that damages outlined herein occur. A valid photo ID and credit card are both required at check-in. The hotel takes a credit preauthorization but does not accept cash deposits.